Following "Henshin" (Transformation)
from a New Perspective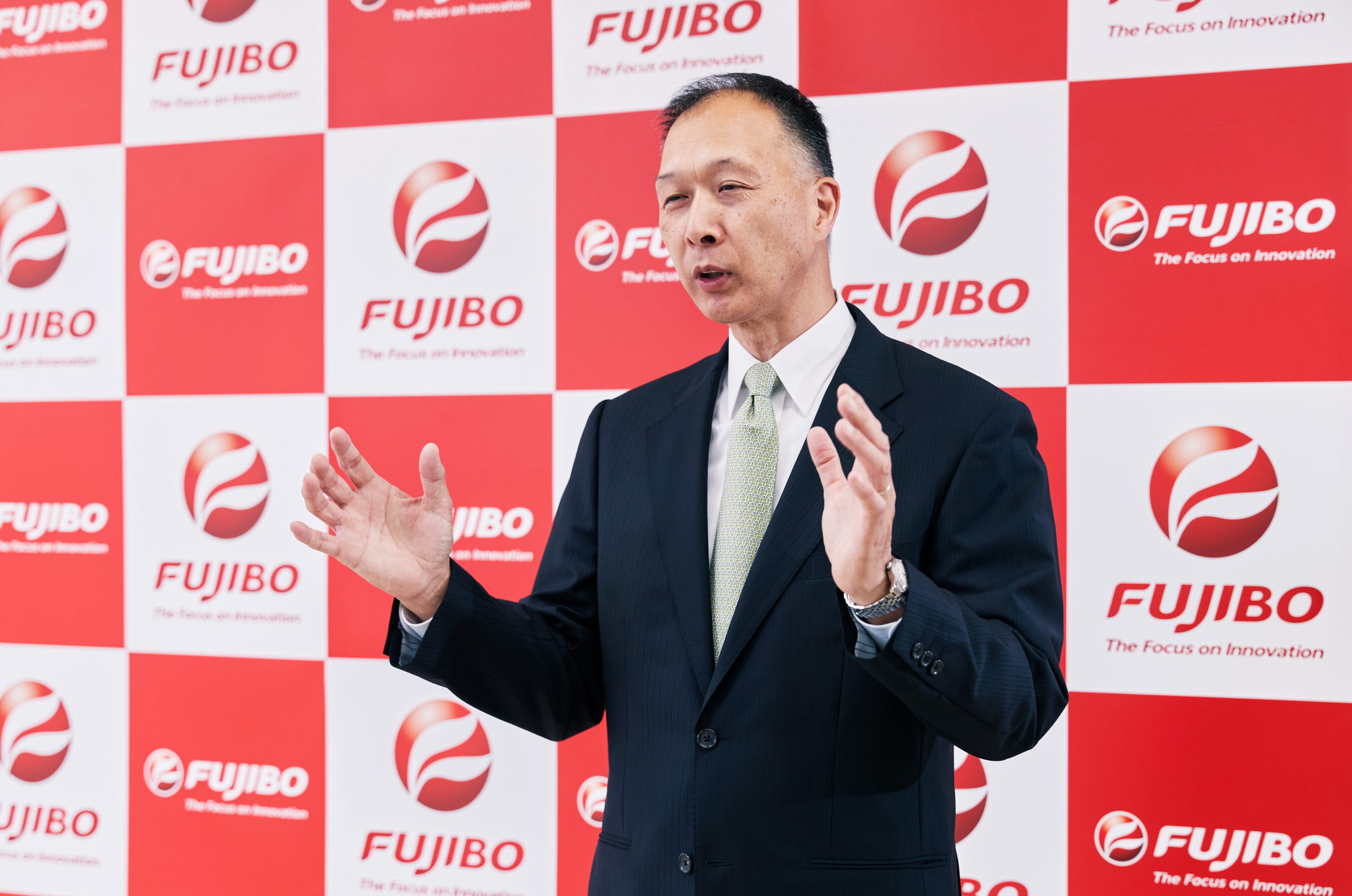 Realizing a More Prosperous and Sustainable Future
On June 29, 2022, I was appointed Representative Director and President of Fujibo Holdings, Inc. I intend to carry on the businesses that our previous presidents have built up over more than 120 years, working to develop them further. I look forward to your understanding and support in this endeavor.
The world is currently experiencing a split in globalization as the COVID-19 pandemic resurfaces and Russia invades Ukraine. In addition, the outlook remains uncertain due to factors such as soaring resource and energy prices and accelerated global inflation. Furthermore, climate change-related issues such as droughts, floods, and air pollution have become more severe. To solve this problem, one could state that we need to redouble our efforts to get back to basics. Looking at the environment surrounding companies, as part of ESG investment in recent years, investors and other stakeholders now give a higher rating to companies that adopt long-term strategies integrating environmental and social factors.
In order to meet the expectations of such investors and other stakeholders, Fujibo Holdings published its  Sustainability Report in November 2021. We have now released an updated and revised version of this report. Our corporate philosophy states, "We are committed to realizing a more prosperous and sustainable future for people, society, and the global environment." To do so, we are determined to make steady strides forward.
Implementing a Growth Strategy that Balances Tangible and Intangible Factors
Since the Medium-term Management Plan Henshin 06-10 (Transformation 06-10), the Company has implemented medium-term management plans named Toppa (Breakthrough), Maishin (Advance), Kasoku (Accelerate), and Zokyo (Increase and Strengthen). In this process, we have identified our top management priority as Henshin(Transformation), and we have worked to achieve sustained increases in our corporate value. As a result, we have strengthened our corporate structure by rebuilding our business portfolio. In the fiscal year ended March 31, 2022(FY2021), we delivered record-high net profit of ¥4.4 billion. Under the Medium-term Management Plan Zokyo 21-25, which started in 2021, we have been working to strengthen our earning power by improving our profitability through a shift to high profit businesses. Through these efforts, we are working toward our goal of achieving operating profit of ¥10 billion in the plan's final fiscal year.
To grow our businesses, we must strengthen tangible factors such as capital expenditure, mergers and acquisitions, and alliances, but we must also consider balancing those factors with intangible factors, which we consider to be one of our management priorities. We must determine how to attract talented human resources and provide an environment where they can fully harness their abilities. As values related to work styles evolve with the times, we are being put to the test in terms of what we can do as a company. It will be crucial to properly balance tangible and intangible factors in our growth strategy, with an emphasis on promoting diversity, such as women's success in the workplace, and the recruitment of experienced personnel and non-Japanese individuals. In addition to providing human resources training as a matter of course, we will continue working to revise and reform personnel and health management systems. To continue growing toward a brighter future, we will continuously hone our technologies and expand our businesses as we maintain our position as the outstanding No.1 player in a niche segment.
Representative Director and President
Fujibo Holdings, Inc.
Masahide Inoue